by Bev Sninchak
You've set up your business and things are running smoothly – or so it seems. To ensure your business invoices are paid sooner rather than later, it's important to remove any obstacles that may hinder the remittance process. That means doing several things, including making sure your invoices are easy to read, payment terms are understandable, and expectations are concise, among others.
The simpler you make it for clients to pay, the faster they will pay. In addition, it's smart to add exclusive perks and time-sensitive motivators to encourage customers to remit even before payment is due.
Here are some handy tips for getting your invoices paid faster, with little muss, fuss, or confusion from your customers.
1. Send Invoices That Are Clear and Easy to Understand
Invoicing should be a uncomplicated process for your company and for your customers. If your invoices are unclear or confusing, chances are you'll have delayed payments and also have to field calls from your customers asking for further clarification.
For example, don't make your product or service descriptions hard to understand. Give a brief, yet easy-to-decipher summary of the product you sold to the customer. Using lingo only people in your company will understand does not help the customer one bit. It will only cause confusion and delay payment.
Always include a company logo, contact information, date of service or product delivery, a description of the product or service, and outline the payment terms. In case there are questions, add a line at the bottom of the invoice stating: "Have a question about your invoice? Contact us at [insert phone number or email address]."
Don't make your client go searching for ways to get his or her questions answered. The goal is to send a clear invoice that results in automatic payment. Don't clutter up your invoice or add confusing elements.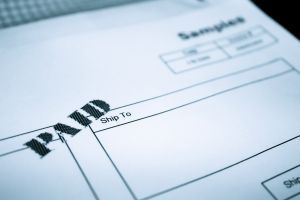 To get your invoices paid sooner rather than later, make the payment process simple.
2. Use Invoice Software
To help streamline the professional look and feel of your invoices, it's best to use invoice software if possible. There are many choices for invoice software out there, depending on your company's needs.
The benefits to using invoice software are many. For instance, you can design your own invoices to fit with the company's image, you can track unpaid versus paid invoices, and you can make backups of important data or issue analysis reports. By using invoice software, most of the work is done for you. What's more, even though you may be a smaller company, your invoices will look as professional as those of a larger business.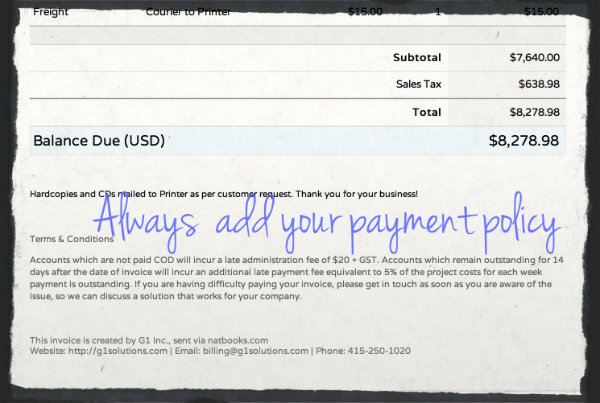 Simple payment terms can yield faster invoice payments.
3. Offer Incentives
Finally, one great way to encourage clients to pay invoices quickly is to offer them special incentives. For instance, you can offer a ten percent discount for payments made two weeks ahead of the due date, or offer an even greater discount for invoices paid within five days. Customers love to save money, and this will allow your to get paid sooner rather than later.
Reward repeat customers by giving them discounts for paying their invoices in a timely manner over the long haul. For example, if your clients order from you six months out of the year, give them successive discounts on products and services they normally buy. Then tie that to making their invoice payments by the due date each and every time. They save money and you will, too.
Making sure your business invoices are paid quickly is of utmost importance to the efficiency and survival of your company. Using the suggestions above makes the invoicing and payment processes as seamless as possible.
Bev Sninchak is a veteran freelance writer with 16 years of experience producing content for a variety of publications. She writes about many subjects, from social media strategies to managing online reputation.
Photo Credits
Courtesy of Media Shower | Stuart Miles | freedigitalphotos.net